There are some films that are not limited to the theater but come off the screen and become involved in our lives. Everything from what we do to what we think depends on these films. Whether it's studying for a college exam, working your brain to solve a difficult puzzle, or making love properly. All this is due to our cinema, especially those films which have set the flags of our film industry all over the world.
Hey guys, my name is Ayush. First of all, Happy Diwali to all of you. On this happy occasion, I am going to tell you about 50 plus Indian movies that have changed the way we watch and understand.
Best Movies Of Hindi Cinema
---
Tumbbad: Best Movies of Hindi Cinema
Tumbbad is a film that has completely changed the history of Indian cinema. Tumbbad, released in 2018, is about Hastar, the first son of Purti Devi, whose greed caused the rest of the gods to become enemies of his life.
In order to save her son, Devi makes a deal with the other gods, in which Hastar is given his life in a never-asked condition, but Hastar wakes up again due to the increasing greed of humans.
IMDb 8.2/10
---
Gangs of Wasseypur
The focus of Gangs of Wasseypur is on family enmity, in which his son and his son's son also agree to avenge the defeat of a modest laborer. On one hand, there is Netaji ji, with a big name, and on the other hand, there is a gangster who is not afraid of anyone. Will fear prevail over politics or will the story turn upside down?
IMDb 8.2/10
---
Andhadun
Andhadun is the story of a piano artist who, while acting blindly, gets lost in a dangerous murder. If you tell the truth to the world, you are sure to get kicked and punched, and it is very difficult to lie because the criminals who committed the murders have come to know the truth.
IMDb 8.2/10
---
Hera Pheri: Best Movies of Hindi Cinema
This brings to the screen the jugalbandi of three great men, who do not do anything special in the name of their job, but can definitely kill the world with laughter through their comedy.
IMDB 8.1/10
---
Paan Singh Tomar
Paan Singh Tomar, released in 2012, is based on the country's biggest dacoit, who at one time used to win medals for the country. But then, trapped between justice and no justice, his life turns so much that he starts killing people by staying in the forest.
IMDb 8.2/10
---
Piku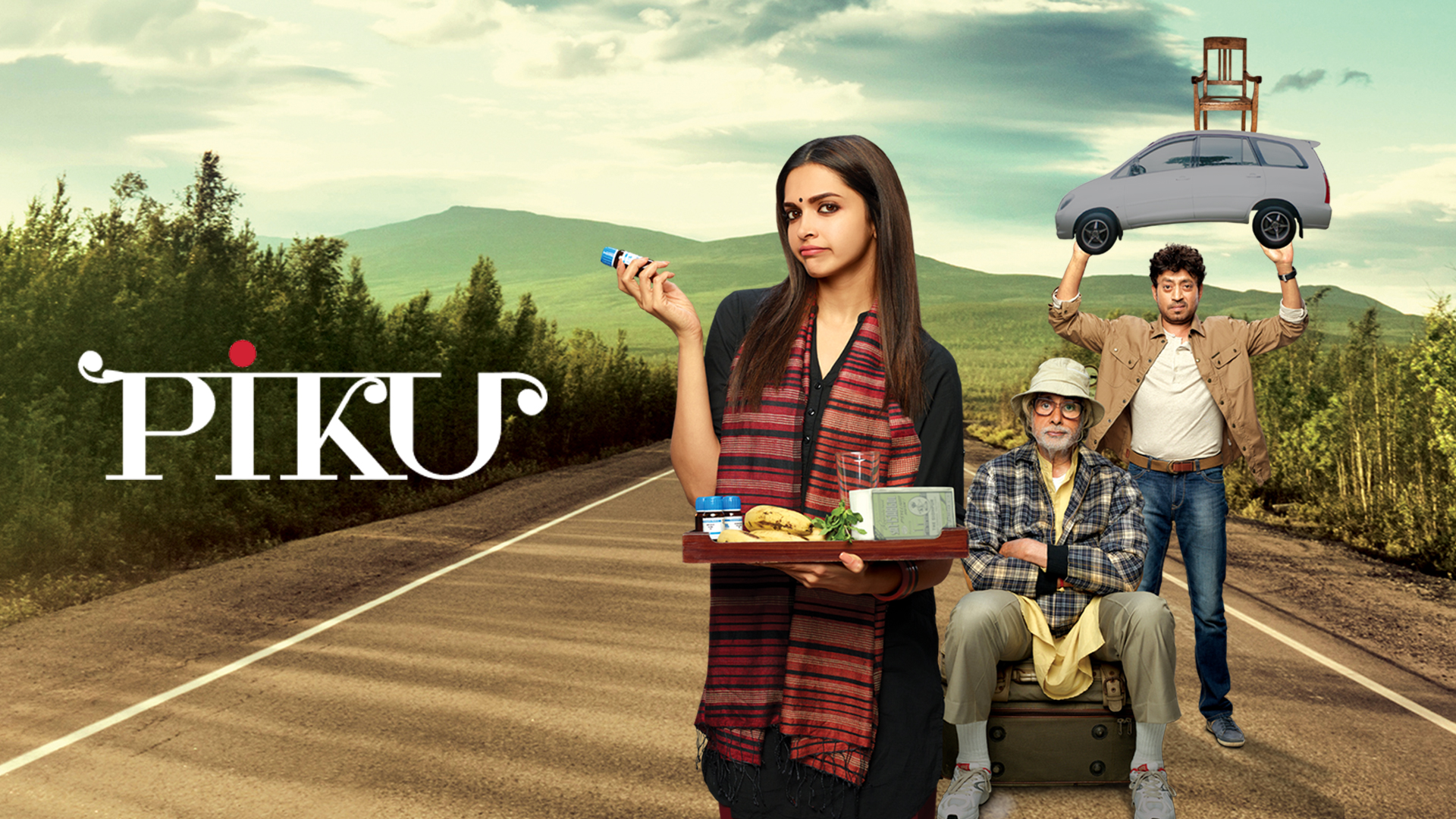 This film brings to us the depth of the relationship between father and daughter; a modern-day girl who is in search of freedom, but the biggest hurdle in her path is her father, who does not want to be separated from his daughter under any circumstances.
IMDb 7.6/10
---
Wake Up Sid
Wake Up Sid is the story of all of us who are searching for a destination in life but in the luxuries, leisure, fun, parties, etc. Some have gotten caught in such a way that the word hard work has been erased from our dictionary.
IMDb 7.6/10
---
Table No. 21
Table No. 21 is the story of a couple who are a little poor in terms of emotions or money, but suddenly their fortunes change and they get a chance to earn a crore of rupees through a game. But the condition is that they must tell the truth; if they lie, they will die.
IMDb 7.2/10
---
The Ghazi Attack
The film is based on a famous underwater battle in which some brave soldiers attack a submarine using their brains to thwart enemy moves. Who will get the victory, whether technology or patriotism?
IMDb 7.5/10
---
3 Idiots: Best Movies of Hindi Cinema 
The film 3 Idiots, released in 2009, refreshes the college days once again. Studying before the exam or proposing the principal's daughter, all these accidents we have faced in real life, in such a situation when the topper of the college, Rancho, disappears, then his friends try to find him with the help of flashback stories.
IMDb 8.4/10
---
Black Friday
This film puts the truth of the Bombay Bomb blast in 1983 in front of us from different perspectives. One view is of the police, the other is of the criminals, the third is of the victims of the blast, and the fourth is of the people who connect them all. Who is the truth and who is a liar? The answers are quite crooked.
IMDb 8.4/10
---
English Vinglish
This film shows the story of becoming a little special, how nowadays learning English is more important than eating, by proving that a housewife who, on the pretext of learning English, encounters a new person hidden inside herself.
IMDb 7.8/10
---
Bhool Bhulaiyaa: Best Movies of Hindi Cinema 
This film works to bring the ghosts to life with tales and stories of childhood. There is a king. He has a huge mansion, and there is a ghost who has come to kill the king for years. Now, in such a situation, a doctor saab collides with that ghost and threatens to dust him.
IMDb 7.4/10
---
Nil Battey Sannata
Nil Battey Sannata is a drama-comedy film which properly serves to explain the difference between the rich and poor. What do you think? Only rich people have the right to study, or even poor people can make their dream of becoming a doctor or engineer come true.
IMDb 8.2/10
---
OMG
This film works to expose the agents of God living on earth or God himself. When everything happens according to the will of God, then watch this film also with his will. I promise that the difference between truth and a gimmick you will understand in a very precise way.
IMDb 8.1/10
---
Munna Bhai MBBS: Best Movies of Hindi Cinema 
The journey to becoming a doctor is shown here in a humorous or entertaining way. You can only become a doctor by reading books. But treating a patient in real life by rote is equivalent to finding water on Mars.
IMDb 8.1/10
---
3 Storeys
The story of a three-floor chawl in Mumbai narrates four different stories: an elderly woman, two past lovers, and a beautiful looking woman on whom every merge loses your heart, and knowing how all of these are connected can blow your mind.
IMDb 7/10
---
Veer Zaara: Best Movies of Hindi Cinema 
The plot revolves around a love that even the country's most powerful people cannot stop. Veer is the plot of the air force whose heart comes from Zaara, who came from Pakistan. After 22 years, Veer is found in Pakistan's jail. Why, when, and how? The answer will take you to the door of true love.
IMDb 7.8/10
---
Citylights
Citylights narrates the dreams of people coming from a small town settled in Mumbai. Deepak, who has been in the army before, comes to the city of dreams with his family, Mumbai, to live a good life, but the city of Mumbai scratches her and it becomes difficult for her to breathe here.
IMDb 7.3/10
---
Lakshay
Lakshay is a life-changing movie which works to pay tribute to the real superheroes of the country, i.e., army soldiers. It shows how a small boy comes out as a true hero after serving the country and sets an example for the whole world.
IMDb 7.9/10
---
Manto: Best Movies of Hindi Cinema 
Saadat Hasan Manto is a biography of a famous writer, in which an attempt has been made to show the ups and downs of his life on screen. From the partition of the country to finding one's own identity or receiving the hatred of many people for writing a bold story, everything has been done with honesty.
IMDb 7.3/10
---
Pink
If you want to know the real meaning of a word like "no," then this film explains it very well. Three new-age girls who live life according to their own accord, then after one incident, they are dragged to court. Are boys really above girls or do both have an equal right to speak?
IMDb 8.1/10
---
Queen
Queen is the story of a girl who, after calling off her marriage, goes on a honeymoon alone with her broken heart and sees the whole world. What she gets to learn in return is that not only her life but her thoughts as well are changed.
IMDb 8.1/10
---
Hungama: Best Movies of Hindi Cinema 
This film has the power to kill you, but there will be no pain in it. You can reach God's house with a laugh. Two strangers pretend to be married, while on the other hand, a rich husband doubts his wife. When these four collide with each other, there are bursts of laughter.
IMDb 7.6/10
---
Yeh Jewani hai Dewani
This film takes you sitting at home with Manali on the success of friendship and love, in which efforts have been made to explain in simple words what the most important things in life are with the help of Kabir, Naina, Aditi, and Abhi.
IMDb 7.2/10
---
Special 26
The story of Special 26 is about some clever people who become fake CPIs and clean their hands on the black money of big leaders and businessmen. The dice was over when even a clever police officer would have caught them wholeheartedly. Huh. Who will win, the police or the thief?
IMDb 8/10
---
Karwaan
Here is the story of three people who look at life differently at different ages: a student whose world is stuck in part or romance, an engineer who lives his life on the orders of his father. And thirdly, apart from these two, they are making the world dance on their own terms.
IMDb 7.6/10
---
Kahani
This movie is written around a pregnant woman who goes straight from London to Kolkata in search of her husband. There is a twist in the story when every person questions her husband's realness and he is also considered insane.
IMDb 8.1/10
---
Section 375
Section 375 is situated in a court case where attempts have been made to expose the dark secrets of Bollywood.
IMDb 8.1/10
---
Zindagi Na Milegi Dobara: Best Movies of Hindi Cinema 
Zindagi Na Milegi Dobara is the story of three friends who set out for a tour of Spain together and sort out some of the past mistakes along with new memories, but the twist is that these three friends are part of such a game. Being a part of that will probably put their lives to a complete stop.
IMDb 8.2/10
---
Game Over
This is the story of a computer engineer who makes a game. That game erases the difference between reality and fiction, and unfortunately, this lady herself gets stuck in that game. Now there is only one chance to clear the level. Otherwise, she will have to be imprisoned in the game forever.
IMDb 6.9/10
---
Dil Chahta Hai
Dil Chahta Hai works as an example of friendship, a friendship in which there is neither any condition nor any greed. In this story, there are three friends who sacrifice their lives for each other, believe in friendship even more than they themselves, but in friendship, love enters and everything changes slowly.
IMDb 8.1/10
---
Jolly LLB: Best Movies of Hindi Cinema 
This is a courtroom drama film, which puts a game of law between justice and meaninglessness in front of the audience. A rich businessman's son drives his car on some poor people. Now there is not even a single piece of evidence, In such a situation, a small lawyer shows the courage to go against the whole system.
IMDb 7.5/10
---
Omkara
The story of this picture is written around Bahubali Omi, who picks up Dolly in front of her family members and marries her, then Langda Tyagi enters, who leaves the name of Dolly with Omi's brother for her good luck. The spectacle of death begins. Who will win, love or hate?
IMDb 8.1/10
---
Sarabjit: Best Movies of Hindi Cinema 
The story of this film is written around a small farmer who reaches the border of Pakistan one night under the influence of alcohol. To bring him back, Sarabjit's family competes with the governments of both countries but gets trapped in the political game. Sarabjit stays far away from justice.
IMDb 7.3/10
---
Titli
The story is about some miscreants who steal people's cars with a hammer and the youngest heir of their house, Titli, who dares to get rid of the family business after his new marriage, but is it really that easy to run away from sins? Is.
IMDb 7.5/10
---
Swades: Best Movies of Hindi Cinema 
Swades is the story of a scientist who is very successful in his life and works for Nasa, the world's largest space agency. The game of luck turns in such a way that when he comes to India, he gives his heart to a small village. That they fall in love with a village in India and sacrifice everything for the country.
IMDb 8.2/10
---
A Wednesday
This film has done the work of showing a small spill of the power of the common man. The common man is someone whom the government of the country does not understand. When the water comes out from above the head, so just a simple man starts showing stars to the whole government during the day.
IMDb 8.1/10
---
Talvar
This movie works to reveal the biggest murder mystery in the country. Would the news coming on TV really be as true as we are shown?
IMDb 8.1/10
---
13 B
The story revolves around a family who have recently shifted to a new house, and later they realize that it is nothing less than hell for them. Sometimes they see their own future in a TV series, and sometimes some people hidden in the past come back to the world. Those who died long ago have arrived. 
IMDb 7.3/10
---
Gulaal 
Dilip Kumar Singh is a law student who gets entangled badly in the politics of his college, due to which both his heart and mind have to be deeply hurt. Be it cheating in love or being involved in a murder, life revolves in such a way that only the red color of Gulaal starts writing its fate.
IMDb 8/10
---
The Lunchbox: Best Movies of Hindi Cinema 
The story revolves around two people who have ruined their lives in some way. Due to a launch box, even though they are a hundred kilometers away, they start joining each other's dream world. 
IMDb 7.8/10
---
Drishyam 
Drishyam focuses on the war against the police system of a normal person, in which to save his family, Vijay tries to cover up a crime in which his wife or both of his daughters are unknowingly involved.
IMDb 8.2/10
---
Lootera 
The main focus of the story is Varun, who is a robber and is an expert at selecting people by playing with their hearts and minds. But one day, the love for theft becomes heavy, and in exchange for the treasure, one has to deal with his heart. Who will win, the criminal or the lover?
IMDb 7.4/10
---
Tamasha 
Tamasha works to bring the world's biggest reality show, that is, our life, to the screen. Tired of living life on the instructions of others and now wanting to take control of your life in your own hands, you will get all the answers in this film; what to do, how to do. 
IMDb 7.3/10
---
Rang De Basanti: Best Movies of Hindi Cinema 
Rang de Basanti presents to us the new-age version of the freedom struggle. There are six close friends who help a foreign girl with making a documentary, but gradually they themselves keep on investing in it. and wage war against the increasing corruption in the country.
IMDb 8.1/10
---
HAIDER 
Haider openly puts before us the spectacle of death going on in Kashmir; a simple little boy who is searching for his missing father, but his worst enemies are his uncle and mother, who together put the entire Kashmir in danger. 
IMDb 8/10
---
Udaan
Udaan is the story of a 16-year-old boy who, after coming back from school, is forced to live with his dangerous father. In one way, he is forced to work as a servant in a factory, and in the other, he dreams of becoming a writer. 
IMDb 8.1/10
---
Madras Cafe
Madras Cafe is a 2013 political action drama thriller film led by John Abraham and Nargis Fakhri. The story is based on a secret agent who travels to other countries to stop troubles coming to his country.
IMDb 7.6/10
---
Trapped
The story of this film focuses on the battle going on in one's own mind. Shaurya, who comes to Mumbai with big dreams, finds himself imprisoned in a house. The hope of getting out is absolutely zero, And along with the food in the kitchen, the drinking water is also gone.
IMDb 7.5/10
---
Barfi: Best Movies of Hindi Cinema 
This film weaves the fabric of love, friendship, and greed between three people. There is a dumb-deaf boy who gives his heart to a beautiful girl, but in return for love, the heart breaks. After that, there is an entry of an abnormal girl into the story. The relationship between these two reaches far above the situation of the world.
IMDb 8.1/10
---
Conclusion 
So, my dear readers, these were the best movies of Hindi cinema, seeing which your respect towards Bollywood will increase a bit. If you enjoyed something or have a complaint, the comments section is always open.
And I would like to tell you one thing: this is the biggest post in my blogging journey of 3 years. Well, I know that this thing is off track of this topic, but I had this thing inside me that I had to tell someone.
Bye.